When the spring blooms begin to open their petals, Atlanta is swathed in stunning blossoms that create natural artwork. You can see this tapestry of blooms as you drive through the neighborhoods, on your morning commute, and often through your kitchen window. However, to fully enjoy Atlanta's gorgeous spring scenery, follow these tips.
1. Brookhaven Cherry Blossom Festival
The family-friendly Brookhaven Cherry Blossom Festival celebrates the brilliant cherry blossom blooms with a packed weekend of activities each spring. Located on Atlanta's northern edge, Brookhaven is only fifteen minutes from downtown Atlanta, and it's one of the best places to see these gorgeous flowers in the city. Aside from the pink blooms, the festival offers a jam-packed weekend of events that will appeal to the whole family. The Cherry Blossom 5K race gets people on their feet and moving. There's a lineup of live music to enjoy as well as a surplus of art vendors and food and drink stops. The Brookhaven Cherry Blossom Festival coincides with the Annual Classic Car Show, which celebrates vintage vehicles that shine. The Kids Zone provides ample activities for the festival's youngest visitors with bouncy slides, face painting, and more.
2. Atlanta Botanical Garden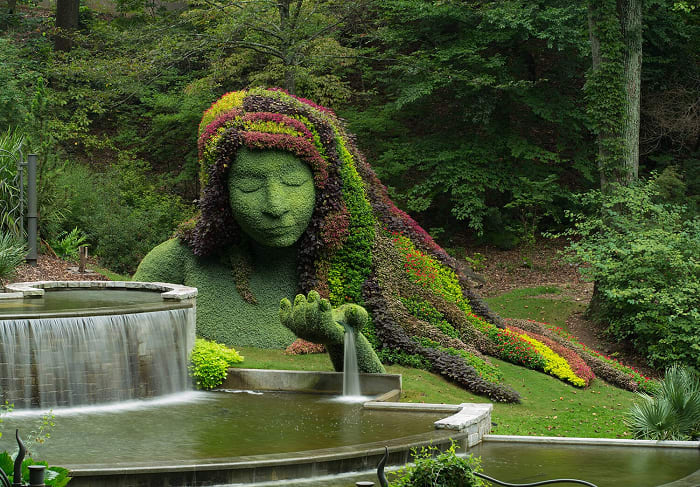 Credit: Atlanta Botanical Garden
For a truly immersive flower experience, swing by the Atlanta Botanical Garden. Stretching thirty acres, this carefully maintained botanical garden is situated near Midtown's Piedmont Park and has been a stronghold in horticultural engagement and education in Atlanta since it first opened in 1976. Visitors can enjoy spring blooms as early as February when the garden hosts Orchid Daze, an enchanting display of fragrant orchid blooms. Although the Fuqua Conservatory and Orchid Center is open daily to the public, this exhibition of orchids is one of the largest collections of orchids in a public garden across the globe. These flowers will be showcased until mid-April and return again next year.

Then, the garden hosts Atlanta Blooms! between March 1 and April 30, when Atlanta is in its peak blooming season. Visiting the Atlanta Botanical Garden during this event is an excellent idea for educational field trips and romantic afternoon dates because the gardens will burst with vibrant colors as hyacinths, crocuses, tulips, and more drape themselves in stunning colors. Additionally, the garden will host hands-on activities for an interactive experience.

As you meander the garden, you'll face mesmerizing botanical sculptures, which make the Atlanta Botanical Garden an incredible display of floral artistry all year long. With a few hours on your agenda, you can get lost in the Rose Garden, peruse the Desert House's dry heat, and take a class at the garden to learn how to grow tomato plants at home or practice your Tai Chi.
3. Atlanta Botanical Garden, Gainesville
Only an hour out of town sits the Atlanta Botanical Garden's second campus in Gainesville, Georgia. Because this botanical garden is situated 55 miles north of Atlanta, it's not usual for spring blooms to sprout a few days earlier here than they do in Atlanta. Families with children will love the Gainesville branch of the Atlanta Botanical Garden for its stroller-friendly sidewalks, storytime activities, and family dance parties, as well as a wealth of woodland trails that showcase the incredible Georgia forests and their immaculate blooms. Relax at the forest pond as it shimmers in the sunlight and search for blooming water lilies or take a leisurely stroll through the Woodland Promenade as it showcases the best of Gainesville's blooms.

On March 23, the Gainesville campus will hold a color theory painting event called Tulips of Every Color, which conveniently coincides with the annual tulip bloom. Then, between April 6 and April 15, log onto the first online rendition of the botanical garden's annual Spring Plant Sale, where you can start your home gardening journey.
4. Atlanta Dogwood Festival
Now in its 85th year, the annual Atlanta Dogwood Festival is a celebration of the city's breathtaking dogwood blooms. It occurs at Piedmont Park, typically during the second week of April when the dogwoods are in their full glory. The festival is free to the public, and the many blooming dogwood trees create a gorgeous, once-a-year landscape to explore.

In addition to the brilliant display of natural beauty, this festival hosts numerous other activities for the whole family. The Artist Market provides an opportunity to celebrate local and national art in one of the largest juried arts festivals in the nation. This festival showcases over 260 artists working in various media, from painting to sculptures and leather craftsmanship to glass blowing. The Atlanta High School Art Exhibition is an excellent opportunity to support upcoming artists. Kids Village and Midway Rides provide all-day entertainment for young visitors, and the Disc Dog Southern Nationals Qualifier tournament even gets your canine best friends involved.
5. Callaway Gardens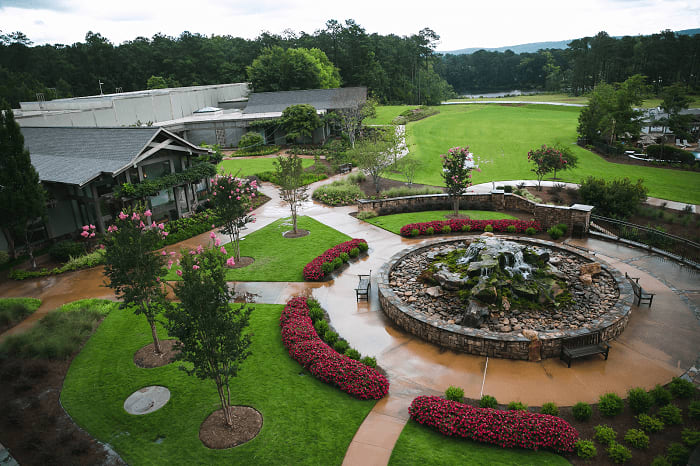 Credit: Callaway Gardens
If you're in the mood for a day trip, gather up the family for a weekend road trip to Pine Mountain, Georgia, where you'll find Callaway Gardens. Situated 81 miles southwest of downtown Atlanta, the drive to Pine Mountain will be draped in vibrant blooms this time of year, and you're in for a beautiful day of exploration at Callaway Gardens. The campus of Callaway Resort and Gardens stretches over 2,500 acres and includes not only immaculate blooms but also interlacing hiking and bicycling trails and a world-class golf course.

Callaway Gardens is particularly beloved for its astounding collection of azaleas. With one of the world's largest collections of both cultivated and native azaleas, Callaway Gardens is home to more than 20,000 of these dreamy flowers. This botanical garden houses more than 700 varieties of azaleas, which will bloom from mid-March to mid-April yearly and have been doing so for more than 65 years.

To enjoy the vibrant beauty of Callaway Gardens, visitors must purchase a daily admission ticket for $14.95 each (with the exception of children below the age of five, who enter for free). If you prefer to stay the night, make it a two-day trip by booking a room at the Callaway Resort for a luxurious experience.
6. Chattahoochee River National Recreation Area
If you prefer to experience nature in its natural habitat, head to the Chattahoochee River National Recreation Area. No matter which way you choose to experience the park this spring, you'll be surrounded by gorgeous blooms and relaxing scenery. All year long, the park is decorated with plant life, and in the spring, you'll spot trout lilies and redbuds early in the year, followed by azaleas and coreopsis. Whether you're taking a walk, resting by the banks of the river, or cycling through the bike trails, be sure to keep your eyes open for the stunning array of flowers that sprout this time of year.
7. Blackburn Park
Brookhaven's Blackburn Park is home to numerous ways to enjoy the outdoors and browse Atlanta's spring blooms. Although quaint in size, this park hosts numerous sports fields, including two baseball diamonds and nine tennis courts, as well as winding sidewalks and exercise trails. Lining the park are trees that burst into color during the spring and cast beautiful blooms throughout the greenspace.
8. Gibbs Gardens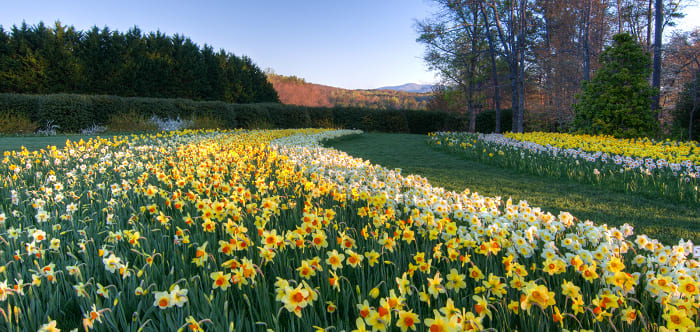 Credit: Explore Georgia
Fewer than fifty miles from downtown Atlanta in Ball Ground, Georgia, lies Gibbs Gardens. With 220 acres and 16 designated gardens, this world-class botanical experience is worth the afternoon drive. Entry tickets range from $10 for children to $20 for adults, and while the gardens are closed for winter, they reopen annually in mid-February, just in time for Georgia's first blooms. Daffodils are typically the first to bloom in early March, followed by cherry blossoms and dogwoods, and then by April, the azaleas are in full swing until early fall.
9. Goizueta Gardens
The Atlanta History Center is situated on 33 acres, which includes the Goizueta Gardens. With nine individually landscaped and carefully maintained gardens, this botanical enterprise showcases both cultivated and native landscapes. Whether you're perusing the ornamental Olguita's Garden, getting lost in the Quarry Garden on herbal medicinal plants, or resting in the blooming Rhododendron Garden, this landscape is one that you won't want to miss. The Goizueta Gardens boast multiple robust forests, including Swan Woods and the distinctly meticulous Asian Garden. Smith Farm Gardens hosts heirloom plants as well as familiar animal breeds, which makes it a fun stop for families with children. With three historic homes on the property and the wealth of knowledge available at the Atlanta History Center, this location is excellent for an educational day of sightseeing and searching for dazzling blooms.

Atlanta's stunning landscape is one of its many draws. If you're interested in learning more about Morningside real estate, don't hesitate to contact Erin Yabroudy & Associates for more information. We're happy to help you find a place you love to call home, whether that's a Morningside home for sale or Ansley Park property.